ROMARICO: Refuse to take surgery for liver cancer recurrence!*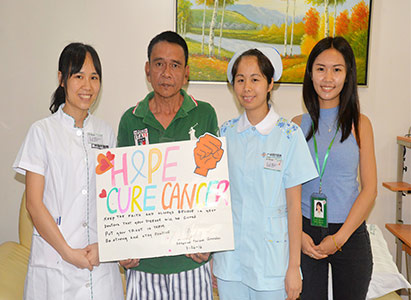 Romarico from the Philippines was in a good physical condition but he felt a little abdominal pain last year. Then he went to hospital for further check. At first, doctor diagnosed that there was some problems of the gall bladder. However, after taking the gall bladder removal surgery, the pain showed again after a while. Romarico came back to the hospital for further check-up and treatment but at this time the medical test results surprised him. He was diagnosed with liver cancer stage 2 and the doctor suggested taking surgery. Romarico listened to doctor's suggestion and took surgery in the Philippines which brought a lot of pain to him with sequelae, like memory deficits, blurred vision, etc. Fortunately, the tumor was removed.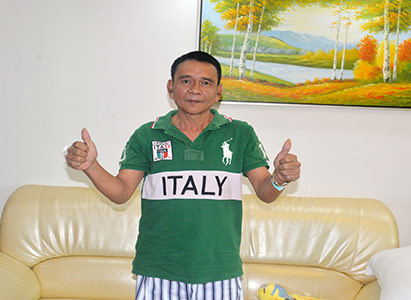 He thought cancer was gone after the painful surgery. However, there was temporary happiness. After a half year, liver cancer came back. Doctor told him he may only leave 6 months to one year lifetime. Though what doctor said was sad, he still believed that he can live longer. Thus, he positively looked for other alternative cancer treatment plan. Accidentally, his niece took cancer treatment at St. Stamford Modern Cancer Hospital Guangzhou and got a good treatment effect. Romarico knew his niece gained a good treatment with no surgery so he went to Manila office for more information.
At Manila office, he knew that St. Stamford Modern Cancer Hospital Guangzhou is an American JCI accredited cancer hospital which offers 18 minimally invasive cancer technologies with the advantages of no surgery, good therapeutic effect and few side effects. Romarico was afraid of taking surgery so he decided to take minimally invasive treatment at St. Stamford Modern Cancer Hospital Guangzhou.
With the company of daughter, Romarico hospitalized at St. Stamford Modern Cancer Hospital Guangzhou on October 11th, 2015. MDT( Multidisciplinary team) conducted a careful check-up for him. Doctors analyzed and discussed the case and decided to make a treatment plan of "interventional therapy + cryotherapy" as the first treatment session.
In the Philippines, Romarico had not heard about interventional therapy or cryotherapy. Before taking treatments, he was anxious. Doctors and nurses patiently explained and carefully took care of him, his worry and doubt were gradually gone. During the treatment, interventional therapy or cryotherapy did not make him suffered and not bring him any side effects. He only felt a little bit weak.
On November 26th, Romarico took the second session of cryotherapy. Romarico told us that he did not feel any pain during the treatment. The whole treatment was relaxed. He also did not show any side effects which is the big difference between the treatment at St. Stamford Modern Cancer Hospital Guangzhou and in the Philippines. After taking the open surgery in the Philippines, his body was weak and he cannot move and lied on bed painfully.
In order to consolidate the treatment effect, Romarico also took ozone therapy and natural therapy. Now, 60% of tumor was destroyed.His attending doctor told us that in the future treatment, it will be better and have a better effect.
Romarico also encouraged other cancer patients not to give up during the treatment. Hold you belief and stay positive!
*Surgery, in addition to the appropriate chemotherapy and radiotherapy, are effective in treating early cancer, but certain patients in late stage of cancer may not be tolerate surgery well as they can be relatively weak. A combination of carefully planned minimally invasive therapy, chemotherapy or radiotherapy can effectively reduce the side effects and discomfort of treatment and may help patient get better efficacy.