Minimally Invasive Therapies Win Confidence of Liver Cancer Patient*
ANH LUONG is 57 years old, from Hanoi, Vietnam. In 2011, he was diagnosed with liver cancer in his routine check-up. Tumor marker was up to 6000ng/ml at this time. When knowing how server the disease was, ANH LUNONG was so devastated that he thought he was condemned to death. His mother was a doctor and asked, "Which treatment do you want to choose, traditional Chinese medicine or western medicine?" ANH LUNONG answered, "Cancer should be treated immediately. Drug abuse will worsen the condition. I must find a good cancer hospital for treatment."
From the Internet, St. Stamford Modern Cancer Hospital Guangzhou (MCHG) caught ANH LUONG's eyes. Except for traditional treatments including surgery, chemotherapy and radiotherapy, MCHG has 18 advanced minimally invasive treatments. On May 30, 2011, accompanied by ANH LUONG's family, he arrived at St. Stamford Modern Cancer Hospital Guangzhou. As ANH LUONG's attending doctor, Lin Jing firstly arranged him to take examination which showed his AFP reached to 6572ng/ml and neoplastic lesions were seen on the lowest segment of right hepatic lobe with multiple metastases to inner liver. It needs to perform comprehensive therapies immediately. On June 2, 2011, interventional therapy was performed successfully on ANH LUONG without any obvious discomforts. After a month of adjunctive therapies, he was discharged and went back to Vietnam.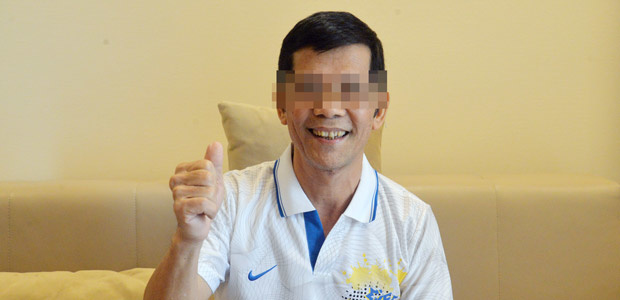 ANH LUONG
Dr. Lin Jing suggested him come back for follow-up examination and treatments. However, due to his busy business, ANH LUONG needed to manage his factory and refused Dr. Lin's advice. He only took examination in local hospital without any therapies. Fortunately, the result showed that his tumor shrunk and lost activity, which made him keep mind on work. Meanwhile, he was so amazed at the effect of minimally invasive therapy. He just took only 1 session of interventional therapy, but the tumor was totally dead without side effects.
5 years passed soon, ANH LUONG took examination again, finding that the primary tumor was still there but had been dead. Additionally, another new tumor grew, which meant that cancer returned. He thought it was the result from that he didn't obey Dr. Lin Jing's suggestion and gave up following treatments. However, instead of being upset, he faced it positively.
In August, 2016, with trust to St. Stamford Modern Cancer Hospital Guangzhou, ANH LUONG decided to go back to the hospital for follow-up. When they prepared to leave for China, ANH LUONG's brother who accompanied with him as family caregiver felt pain in stomach suddenly. And then, his brother was diagnosed with stomach cancer in the local hospital. ANH LUONG and his brother decided to take treatments together in MCHG. Besides, ANH LUONG's sister knew family history was one of the factors that might cause cancer, so she also decided to go for the hospital to find cancer prevention method.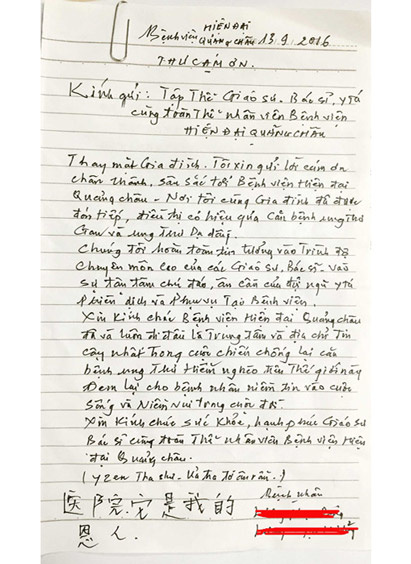 Thanks letter from ANH LUONG
Subsequently, these siblings arrived at St. Stamford Modern Cancer Hospital Guangzhou together. With advice from multidisciplinary team (MDT), ANH LUONG took interventional therapy and 125I seed implantation, and currently he is in stable and good condition. His brother received gastrectomy as one of the comprehensive treatments, and his condition is good also. Additionally, his sister took natural therapy which is applicable to cancer prevention by boosting immunity.
When knowing cancer recurrence and his brother's cancer diagnosis, as a 5-year liver cancer survivor, ANH LUONG took his brother together to undergo treatment at St. Stamford Modern Cancer Hospital Guangzhou at once due to his trust to minimally invasive treatment. He said, "At St. Stamford Modern Cancer Hospital Guangzhou, there are 18 minimally invasive technologies, professional medical team, very good treatment effect and medical service. I believe in this hospital. "
Furthermore, ANH LUONG encouraged other cancer patients, "It is significant to detect cancer as early as possible. Please don't be panic when you get cancer. It will be ok when you find out right hospital and therapies." Here, we also hope these two brothers can wipe out cancer totally soon.
*Surgery, in addition to the appropriate chemotherapy and radiotherapy, are effective in treating early cancer, but certain patients in late stage of cancer may not be tolerate surgery well as they can be relatively weak. A combination of carefully planned minimally invasive therapy, chemotherapy or radiotherapy can effectively reduce the side effects and discomfort of treatment and may help patient get better efficacy.