WILLEM: Appropriate Lung Cancer Therapeutic Regimen Has Shrunk My Tumor 3cm*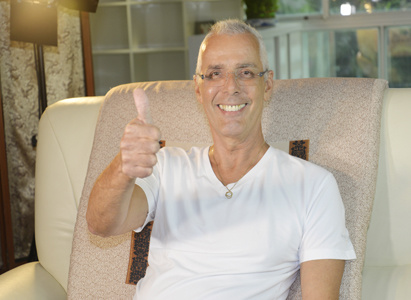 WILLEM
WILLEM: "I choose the right lung cancer treatment and my tumor has shrunk from 5cm to 2cm."
My name is MUIJT CORNELIS WILLEM, from Netherland. In 2014, I felt tired and fatigued so I went for body check. The result showed that I had lung cancer. I could not accept this bad news and suddenly my life was full of darkness.
The doctor in Netherland suggested me taking the chemotherapy for one year. I knew that chemotherapy would make me weak and cause other side effects so I refused his suggestion. However, my condition went from bad to worse. I was despaired but accidentally knew Modern Cancer Hospital Guangzhou which brought hope to me.
Minimally invasive technologies in Modern Cancer Hospital Guangzhou impressed me. I learned about interventional therapy, cryotherapy, natural therapy, etc for lung cancer treatment instead of chemotherapy and radiotherapy. Thus, I directly went to Malaysian office for consultation and they arranged me to Modern Cancer Hospital Guangzhou for taking lung cancer treatment.
In June 2015, I was admitted to Modern Cancer Hospital Guangzhou. At that time, I was very weak and felt like going down. The doctors conducted body inspections for me. After discussion, MDT (multidisplinary team) decided to undergo "cryotherapy + interventional therapy + natural therapy" for me.
When taking the cryotherapy at the first time, they injected the medicine directly from my back. I still was fatigued after that therapy. However, 3-4days later, my condition was gradually improved. I felt like more energetic than before. At that time, I knew I made a right choice and chose the appropriate treatment.
So far, I have underwent one session of cryotherapy, four sessions of interventional therapy and one session of natural therapy. The doctor told me that my tumor had shrunk from 5cm to 2 cm. I was thrilled to know this result.
Here, the doctors, nurses and interpreters have gotten along well with me. They are also my friends, who has consoled, encouraged and supported me to fight with lung cancer. Thank you Modern Cancer Hospital Guangzhou and I will strive for fighting with cancer. I hope other cancer patients can find their appropriate therapeutic regimen like me.
*Surgery, in addition to the appropriate chemotherapy and radiotherapy, are effective in treating early cancer, but certain patients in late stage of cancer may not be tolerate surgery well as they can be relatively weak. A combination of carefully planned minimally invasive therapy, chemotherapy or radiotherapy can effectively reduce the side effects and discomfort of treatment and may help patient get better efficacy.