Stage IV Lung Cancer Patient broke the Death Prediction after 4-month Minimally Invasive Treatment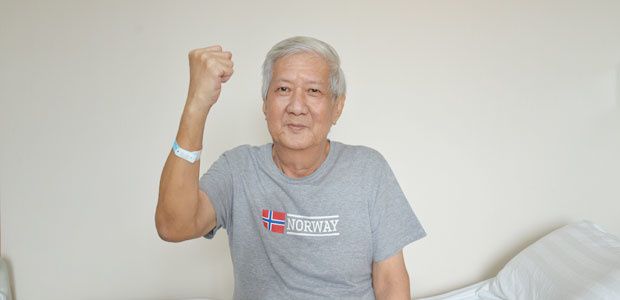 HERMAN SUPRIADI, comes from Indonesia. Though he is already 67 years old, he looks nothing like a stage IV lung cancer patient but full of energy and optimism. Unexpectedly, 4 months ago he was told by a local Indonesian doctor that he only has 3 months left.
Stage IV Lung Cancer suddenly Struck and was told to only have 3 Months
HERMAN SUPRIADI has suffered symptoms of cough and bloody sputum since March 2018. After a PET-CT scan in a local Indonesian hospital, he was confirmed to have stage IV lung cancer on April 9.
When counseling treatment plan, the local doctor gave them a desperate answer"You must take surgery and chemotherapy as soon as possible, otherwise you will die in 3 months."What's worse, the treatment outcome and prognosis probably may not be good even though HERMAN SUPRIADI receives the treatment. "Even though I follow doctor's advice and receive the treatment he recommended, it's still difficult to predict what would happen in 3 months."Optimistic as HERMAN SUPRIADI, stilled faced with this life challenge peacefully.
18 Minimally Invasive Therapies boost Confidence to defeat Lung Cancer
Occasionally, HERMAN SUPRIADI's child found St.Stamford Modern Cancer Hospital Guangzhou(MCHG) on the internet. Knowing that the hospital is equipped with 18 minimally invasive therapies except for traditional surgery and chemotherapy, HERMAN SUPRIADI was highly suggested taking lung cancer treatment here.
Actually, that wasn't the first time that HERMAN SUPRIADI got to know MCHG:"I have ever read a report on the International Daily News, of which written that a terminal lung cancer patient yielded excellent efficacy after taking minimally invasive therapy in the hospital. I thought that was a miracle, and I believed such miracle will also happen to me!"
Lung Tumor Shrank by 70% after 4-month Minimally Invasive Therapy
April 17 2018 was the first time that SUPRIADI has come to St. Stamford Modern Cancer Hospital Guangzhou. At that time SUPRIADI was in a rather sick condition, the compression of the big tumor in his lung brought difficulty in his breath and diet. CT scan showed that his tumor is about 13cm, and has deteriorated to stage IV.
Dr. Yao, HERMAN SUPRIADI's attending doctor, explained:"The big tumor in his left lung severely compressed his lung, causing symptoms like cough and asthma. Considering his condition, our multidisciplinary team finally decided to give him interventional therapy, cryotherapy and closed drainage of the pleural cavity."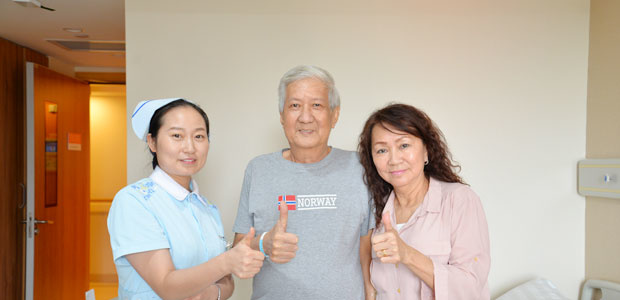 When asking about his treatment experience in MCHG, HERMAN SUPRIADI answered with satisfaction:"It's well known that chemotherapy brings great side effects like vomiting, hair losing, fatigue and etc. But when I took interventional therapy, I felt neither discomforts nor side effects, except for slightly heat when the drug is injecting to the tumor through my femoral artery. The whole treatment lasts for a short time, and did not bring any inconvenience to my life. I'm in a good condition and no longer suffer cough, asthma and other discomforts after 5 sessions of interventional therapy. Combined with cryotherapy, the tumor has shrunk by 70%. Regular follow-up examinations are required after finishing my treatment!"
Dr. Yao explained:"Interventional therapy is totally different from the chemotherapy in Indonesian local hospital. With a 1-2 millimeter incision, anti-cancer drugs are directly given to the tumor, causing fewer side effects and drug concentration is 2-8 times higher than systemic chemotherapy, killing cancer cells more accurately. Cryotherapy is generally known as an "extreme cold + extreme heat" cancer treatment, it actually is an important ablation technique. Generally, the Argon freezes the tumor lesions to 120℃~180℃ below zero, which leads them to coagulation necrosis; after that, the Helium rapidly heat up to 20℃~40℃ to unfreeze the hard ice and lead blasting, which induces cancer cell dehydration, rupture, anoxia, so as to kill cancer cells and destroy the tumor tissues. Cryotherapy is effective in treating solid tumor, for it can remove the tumor just like a scalpel."
SUPRIADI's wife showed her gratitude to the medical team before SUPRIADI's discharge"The treatment mode in MCHG is totally different from that in Indonesia. In Indonesian hospitals, patient is treated by a single doctor, but in MCHG, patients are treated by a multidisciplinary team. The whole team discussed together and made a personalized treatment plan for my husband, it's more rigorous and scientific. Medical staffs here are enthusiastic and always on call. We feel lucky and grateful to take treatment here. Thanks very much!"
*Surgery, in addition to the appropriate chemotherapy and radiotherapy, are effective in treating early cancer, but certain patients in late stage of cancer may not be tolerate surgery well as they can be relatively weak. A combination of carefully planned minimally invasive therapy, chemotherapy or radiotherapy can effectively reduce the side effects and discomfort of treatment and may help patient get better efficacy.