Interventional Therapy Makes Stage IV Nasopharyngeal Cancer Less Terrible*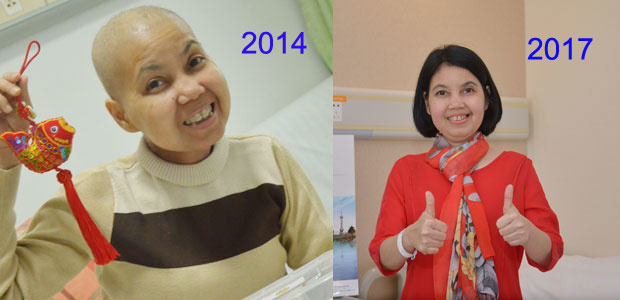 ANNI IBRIAH
In August, 2017, ANNI IBRIAH and her family were very happy to hear about her latest examination report from her attending doctors: the CT scans showed that ANNI's tumors on her neck and in her nose have disappeared, and no signs showed the cancer would reoccur. In November, 2014, she was diagnosed with nasopharyngeal cancer and was admitted in St.Stamford Modern Cancer Hospital Guangzhou for minimally invasive treatment. Three years have passed, and ANNI IBRIAH is now in good physical condition. It is even hard for people to imagine that she was suffering from advanced nasopharyngeal cancer three years ago.
Tinnitus, blocked nostrils? Diagnosed as stage III nasopharyngeal cancer!
In September, 2014, tinnitus and block of the left nostril hit ANNI IBRIAH, so she just took them as the symptoms of common cold. However they did not disappear for a very long time. She was told by doctors of the Department of Otolaryngology of an Indonesian hospital that there was nothing serious, and some common medicine would cure her disease.
She took it as nothing but a common disease, but what she did not know was that it was just the beginning!
Soon afterwards ANNI IBRIAH felt that her two nostrils were both blocked, and increasing difficulty in breath. The tinnitus affected her daily life severely, and especially at night there was as if bells was ringing beside her ears. What was more terrifying was that ANNI found that there was a hard lump on her neck, which let her realize that something was beyond her imagination. However, something was indeed happening: in the largest hospital in Indonesia, ANNI IBRIAH was diagnosed with stage III nasopharyngeal cancer!
At the just beginning, this terrible news nearly crushed her, and the patient even suspected if the results were true. Whereas when she got almost the same results from different hospitals, the used-to-be optimist decided to accept the results. "I can't give up treatment for my family!" as she consoled herself and pray to the Gods, ANNI sought for treatment unyieldingly.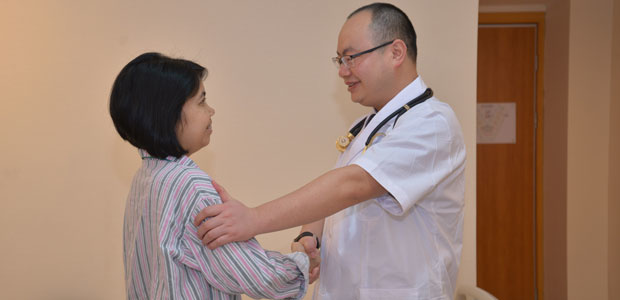 ANNI IBRIAH and Dr. Wu Chaobo
Seeking treatment for nasopharyngeal cancer abroad: I refused systemic radiotherapy and chemotherapy
In Indonesia, accompanied by her husband, ANNI had visited all the good hospitals, but still was disappointed by all the results. Almost all doctors suggested her undergoing radiotherapy and chemotherapy immediately, whereas when she learned that systemic radiotherapy might cause vomiting, hair loss, weakness and other side effects, she and her husband refused these treatments.
Fortunately, ANNI's husband learned something about St.Stamford Modern Cancer Hospital Guangzhou from Internet, so they went to one of its offices which was in Jakarta according to the guide of website information. "I've got free consultation from the cancer experts at the office. I and my family decided to seek treatment abroad after learning something about the fees and therapies in Guangzhou."
In November, 2014, ANNI and her family arrived at St.Stamford Modern Cancer Hospital Guangzhou for the first time. After the examination came out, ANNI and her family were shocked: in less than two months, ANNI has transferred from stage III to stage IV!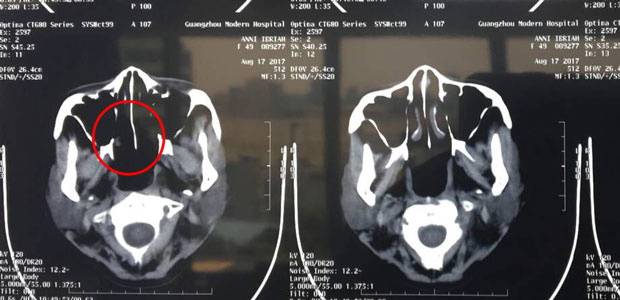 In August, 2017, the CT scan showed that the tumor in ANNI IBRIAH's nasal cavity has disappeared thoroughly.
Interventional therapy set me free from the sufferings of radiotherapy and chemotherapy
According to ANNI IBRIAH's condition, cancer experts from more than ten departments, such as Department of Imaging, Department of Interventional Therapy and Department of Oncology of St.Stamford Modern Cancer Hospital Guangzhou were collected to attend a meeting, and they finally decided to take interventional therapy.
"Three days after the admission, I received the first interventional therapy. Different from that of Indonesia, it just lasted for one hour, I could even feel that the medicine was injected from my thigh into my body. During the therapy, I did not suffer any discomforts." ANNI replied excitedly when asked about the procedure.
Amazingly, after the first interventional therapy, her tinnitus and nasal block disappeared, and besides the hard lump on her neck became soft and smaller, which comforted the patient a lot. When it came to the second interventional therapy, ANNI was no longer afraid and frightened, instead, she was very confident with the treatment and waited for the final results hopefully.
The results did not disappoint ANNI IBRIAH and her family. In January, after the second interventional therapy, the CT scan showed that there was no activity of the patient's cancer cells, but she still needed to return to the hospital for examination. ANNI said happily, "my tinnitus and nasal block disappeared, and I could hardly feel the lump on my neck."
I felt I was at home here
Though three years have passed, ANNI IBRIAH was still familiar with everything of St.Stamford Modern Cancer Hospital Guangzhou when she backed here for reexamination." The rooms here are clean and bright, doctors and nurses are hospitable and friendly. What's more, I can buy fresh vegetables nearby so that I could cook my favorite food. I even received a cake from the staffs at the eve of my birthday, which made me feel that it is just comfortable and convenient like home." when refering to hospitalization environment, the patient was happy and generous with commendation. Before leaving the hospital, ANNI encouraged other patients, "Never give up the treatment, keep healthy diet and good habits, and disease would be cured!"
*Surgery, in addition to the appropriate chemotherapy and radiotherapy, are effective in treating early cancer, but certain patients in late stage of cancer may not be tolerate surgery well as they can be relatively weak. A combination of carefully planned minimally invasive therapy, chemotherapy or radiotherapy can effectively reduce the side effects and discomfort of treatment and may help patient get better efficacy.