Endometrial Cancer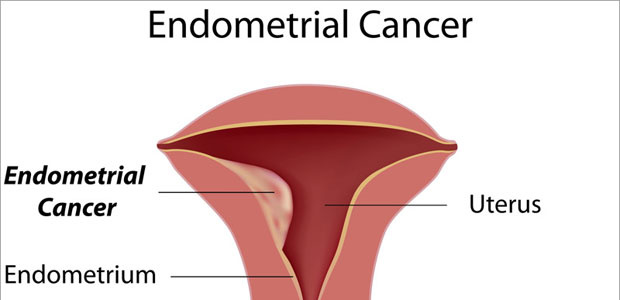 What is endometrial cancer?
Endometrial cancer is the malignant tumor happened in endometrial gland, which is the one of the three malignant tumors of female and ranks 7% of total female cancers, 20-30% of genital tract malignant cancer. Endometrial cancer can happen in any age, but the high-risk age is among 58-61, nearly 50-70% is happened after menostasia. Recent years, there is an increasing trend for endometrial cancer and even exceeds that of cervical cancer. The 5 years survival period for advanced stage endometrial cancer patients is about 25-30%, and the recurrence of endometrial cancer is the main factor that influences the 5 years survival rate.
What are the causes of endometrial cancer?
By now the medical field still cannot define the exact causes of endometrial cancer. Generally it is believed that multi-factors have contributed the occurrence of endometrial cancer, which include: cervical erosion, frequent sexual behavior, disordered sex life, ignoring sexual behavior cleaning as well as menstruation, redundant prepuce of sex partner, herpes type II virus infection as well as HPV infection, venereal disease, mantle bacteria infection, etc.
High risky group of endometrial cancer
Obese people: hyperliposis can somehow increase the risk of suffering from endometrial cancer;
Diabetic patients: the risk of suffering from endometrial cancer for diabetic patients or these people with abnormal glucose tolerance is 2.8 times higher than that of normal people;
High blood pressure patients: endometrial cancer appeals to high blood pressure patients;
Menstrual disorder patients: menstrual disorder or heavy menstruation may increase the risk of suffering from endometrial cancer 3 times higher than that of normal women;
Early menarche or later menopause females: menarche comes before 12 years old may increase 60% risk of suffering endometrial cancer than these whose menarche comes after 12 years old, while menopause delays 6 years than that of normal menopause period may also increase the risk;
Endometrial cancer appeal to these female who give multiple birth to babies, or never have a child, or even have infertilities;
Polycystic ovarian syndrome;
Ovarian tumor patients: it may lead to menstrual disorder, postmenopausal bleeding, endometrial hyperplasia or endometrial cancer;
Females who take estrogenics have high risk of suffering from endometrial cancer.
Staging of endometrial cancer:
If it is definitely diagnosed that there is cancer, doctors shall further get to know the condition so that make out the most suitable treatment plan. The principle for judging stages of tumor relies on whether the tumor has invaded to adjacent tissues; whether there is metastasis, if there is, try to determine which parts it has spread to.
The stages of endometrial cancer are:
0 Degree: just adenomatoid hyperplasia occurs, that is cancer in situ;
I Degree: cancer is just limited within the uterine;
II Degree: cancer has invaded to cervix;
III Degree: cancer has spread outside of uterine (including vagina), but not exceeding lesser pelvis;
IV Degree: cancer has exceeded out the lesser pelvis or obviously invaded bladder or rectum mucosa.
The symptoms of endometrial cancer:
Diagnosis for endometrial cancer: