Treated by Interventional Therapy, My breast Tumor Has almost Completely Disappeared*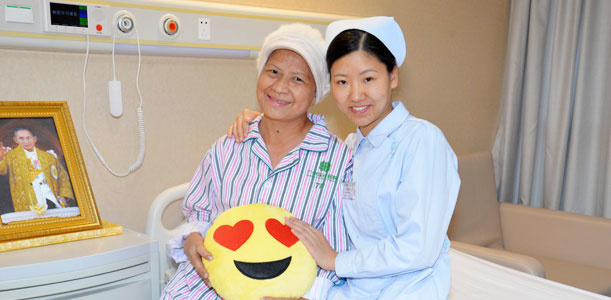 AOI TOKHONGMUANG and the nurse
AOI TOKHONGMUANG: We can defeat cancer!
AOI TOKHONGMUANG, a Thai breast cancer patient. During the past three years, the tumor in her breast keeps growing. Fortunately, her breast tumor has almost completely disappeared after taking comprehensive treatment at St. Stamford Modern Cancer Hospital in 2016.
Having a hunch about cancer
A tumor sized about 1cm was found in her right armpit during a routine checkup in 2013. It was confirmed to be malignant after biopsy. Unlike other cancer patients, AOI did not feel scared and was not surprised by the result. "I knew I would have cancer one day, because both my aunt and grandma were cervical cancer patients. It's heredofamilial." AOI said calmly. Knowing that surgery is of great risk of recurrence and metastasis, AOI refused to take doctor's suggestion of surgery.
In the following days, AOI had been sustaining local herbal medicines to control her disease. However, circumstances never come singly. AOI's mom suffered from cerebral infarction in 2015 and became paralyzed. It consumed much of her time taking care of her mother and ignored her own condition.
Feeling so socared after witnessing the enlargement of the tumor
Two years has passed, the tumor grew bigger as big as a size of an egg, alongside was a dull aching pain. For the first time, AOI felt scared and decided to look for better cancer treatment. On July 7th, 2016, AOI arrived at St. Stamford Modern Cancer Hospital Guangzhou. After overall checkup, she was diagnosed as right breast invasive ductal carcinoma, stage III, with metastases to right armpit, supraclavicular lymph nodes, intraclavicular nodes and cervical lymph nodes.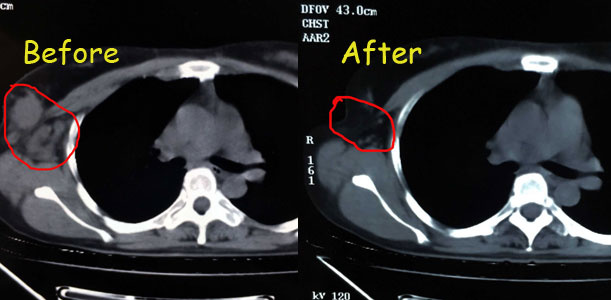 Before and after treatment
Following consultation by the Multidisciplinary Team (MDT), AOI was given interventional therapy initially. Although grade III bone marrow suppression appeared after the treatment, the MDT quickly gave him related treatment to raise leukocytes. The leukocytes returned to normal level soon, without any discomforts. Zhou Aijiao, AOI's attending doctor, told us that AOI' tumor has almost completely disappeared and she's in good condition after taking 5 sessions of interventional therapy and other treatments. Aside from the treatments, AOI was impressed by the hospital services. She didn't feel any discomfort or unaccustomed. "Although I take cancer treatment abroad, there's no language barrier because MCHG offers 24 hours free translation service. Life here is really convenient, I can cook whatever I want to eat."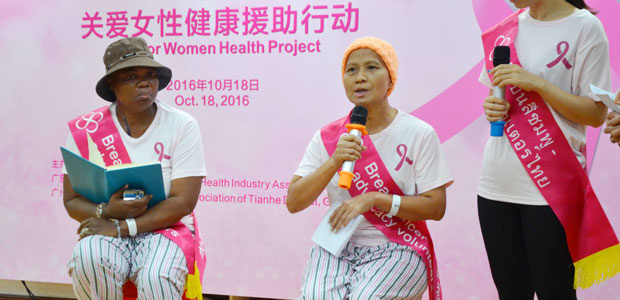 AOI TOKHONGMUANG is sharing her anticancer experience
Mom is my Spiritual Pillar
AOI has four siblings, but she is the one that her mom worries the most. "I'm not married, so my mom always worries that there is no one takes care of me." AOI explained. When being diagnosed with breast cancer, AOI first wanted to lie to her mother about the result because she did not want her mom to worry. Little did she know, her mother had a hint on what was going on with her health. Upon discerning, she encouraged AOI told the truth, "No matter how bad the condition is, just tell me, I can handle it." AOI had no choice but to tell her mom the result. Although worried, her mom still comforted her daughter by saying, "My dear, it's OK, breast cancer can be treated."
AOI loves her mom so much that she was determined to help her mom achieve full health by whatever means necessary when her mom was sentence to death due to cerebral infarction. In order to take good care of her, AOI has neglected her own health. Fortunately, with love and support, her mom is out of danger now. During her hospitalization in MCHG, AOI always encourages and prays for herself, hoping that she can return to Thailand to take care of her mom as soon as possible. "Mom is my spiritual pillar." AOI said sincerely.
*Surgery, in addition to the appropriate chemotherapy and radiotherapy, are effective in treating early cancer, but certain patients in late stage of cancer may not be tolerate surgery well as they can be relatively weak. A combination of carefully planned minimally invasive therapy, chemotherapy or radiotherapy can effectively reduce the side effects and discomfort of treatment and may help patient get better efficacy.