Minimally Invasive Therapy Rids Me of Fears on Breast Cancer*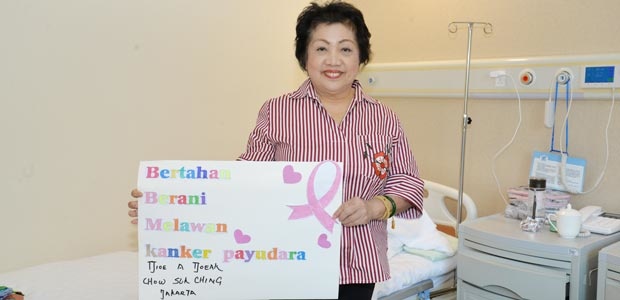 TJIOE A TJOEAK
I'm TJIOE A TJOEAK, from Jakarta, Indonesia. One day in September, 2015, when I took bath, I detected a painless lump on my left breast, measuring about 2 cm. At first, I didn't pay much attention to it and didn't tell my family so as not to cause them to worry.
However, I felt the lump grew bigger. After 2 weeks, I went to take an ultrasound at a local hospital and results revealed of breast cancer. Treatment regimes such as chemotherapy and radiation therapy were proposed which I refused neither surgery. With my family's support, we seek for alternative cancer treatments and hopped from one hospital to another— Hospital of Sun Yat-Sen University and Fuda Cancer Hospital among others until my husband knew about Jakarta office of St. Stamford MCHG through the magazine.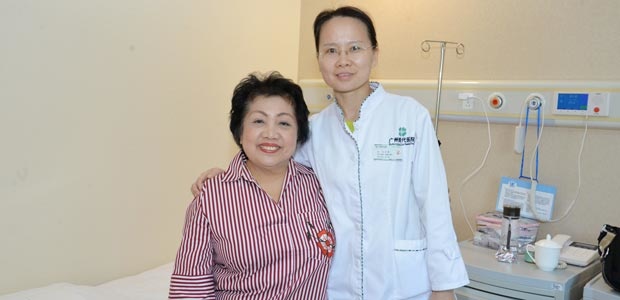 TJIOE A TJOEAK and Dr. Lin Jing
In the office, I have known several patients who have more serious condition than I am, but have gained good treatment effect. Some of them has lived for more than 10 years and now are still in very good condition. In St. Stamford Modern Cancer Hospital Guangzhou, it has 18 advanced minimally invasive treatments which are for more advantageous because it does not entail trauma and produce side effects like what I have learned with the conventional therapies. This offered me a wise and convenient option. Then my journey with St. Stamford Modern Cancer Hospital Guangzhou has begun.
It was in October 31, 2015 when I first stepped in the hospital. I was then anxious that I can't sleep well and my feet and neck were in pain. When I learned that it is an international JCI cancer hospital and garnered outstanding award for medical services and doctors and nurses rendered professionally, that helped reduced all my discomforts.
Multidisciplinary Team (MDT) tailored a plan, left breast excision plus interventional therapy. I was in so much nervous as the procedure started. Eventually, the treatment process went fine and helped me calm down. I feel getting better every day after treatment. For the third session of interventional therapy, my discomforts and symptoms were almost gone and I feel in good state. Now, I am on my fourth session of interventional therapy, tumor has been shrunk gradually and well controlled.
During this treatment, I have gone around Canton Tower, Tianhe Garden, Beijing Road and places by myself which I had never been when I first arrived here. Those who have known me can say it is like I have never been through this kind of ordeal in my life because of what they can see now in me. I am a fighter, I fought back breast cancer and so I encourage every patient too to fight bravely!
*Surgery, in addition to the appropriate chemotherapy and radiotherapy, are effective in treating early cancer, but certain patients in late stage of cancer may not be tolerate surgery well as they can be relatively weak. A combination of carefully planned minimally invasive therapy, chemotherapy or radiotherapy can effectively reduce the side effects and discomfort of treatment and may help patient get better efficacy.