Minimally Invasive Technology Eliminates Esophageal Cancer Successfully*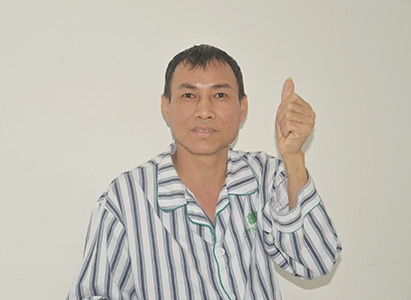 NGUYEN VAN THANH
My name is NGUYEN VAN THANH. I'm 45 years old, from Hanoi, Vietnam. I was diagnosed with esophageal cancer, stage II. After taking interventional therapy, natural therapy, chemotherapy, radiotherapy, etc. in Modern Cancer Hospital Guangzhou, my tumor has disappeared and I'm in good and stable condition now.
In 2015, I was afflicted by choked feeling when I ate something, and then the chest distress and stomach pain followed on. So I went to take check-up, involving gastroscopy and biopsy etc at the local hospital. The harrowing result that I got esophageal cancer made me and my families concern a lot. However, sadness couldn't change this fact. I still must have hope with optimism.
The Vietnamese doctor suggested me taking surgery, but I refused in that I wanted to adopt better and more advanced cancer treatment. And then we began to find various cancer treatments and hospitals. Coincidently, I had a friend who also suffered from cancer. He told me that he got good treatment effect and became better after receiving minimally invasive treatment in Modern Cancer Hospital Guangzhou. He recommended me to go to this hospital. Besides, I also got to know about it on the Internet. I saw a glimmer of hope, thus went to the Hanoi office of Modern Cancer Hospital Guangzhou for consultation. At here, the doctor provided me personalized treatment advices and encouraged me a lot. Through family discussion, we all agreed that Modern Cancer Hospital Guangzhou was reliable and decided to fly to China.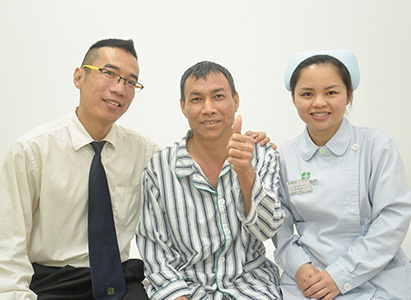 NGUYEN VAN THANH and medical workers
Via help and guidance from Hanoi office, we arrived at the hospital. Professional medical team customized an individual treatment plan for me according to my condition. So far, I have taken treatment here for 10 months. Interventional therapy was the main treatment for me.
I still remembered the first time when I took this minimally invasive therapy. At the beginning, I was afraid of it. However, due to the specific explanation from the doctor, I felt more relived. I strongly trusted doctors and professors here. What's more, I did not feel any discomforts during the treatment procedure.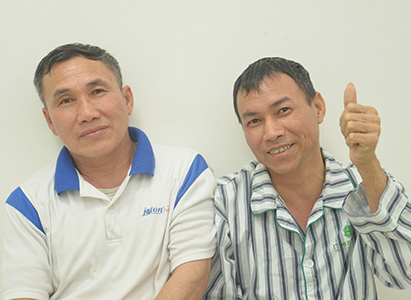 NGUYEN VAN THANH and his brother
After the fourth time of interventional therapy, I got obvious improvement that the choked feeling decreased by 80%. Additionally, I received biological natural therapy, intravenous chemotherapy and radiotherapy. The whole course was very successfully. Except for the side effect of intravenous chemotherapy—slight hair loss, there were no other discomforts. Furthermore, I lost 4-5 kg before I went to Modern Cancer Hospital Guangzhou, and now with my good appetite, my weight has increased. This is the fifth time to come here for treatment. My esophageal tumor has completely disappeared, making me and my family delighted.
The environment here was very accommodating, and the medical equipments were advanced. Doctors, nurses and interpreters were very nice and friendly. I especially liked my resident physician, Dr. Pang who was nice and enthusiastic and he always explained clearly once I had questions. There were many activities for cancer patients here, such as travelling and going shopping etc, beneficial to build patients' good and positive minds.
I hoped that other cancer patients would not be afraid of cancer, but faced it positively. And I also wished that they could find a reliable hospital and suitable cancer treatments as me to conquer cancer.
*Surgery, in addition to the appropriate chemotherapy and radiotherapy, are effective in treating early cancer, but certain patients in late stage of cancer may not be tolerate surgery well as they can be relatively weak. A combination of carefully planned minimally invasive therapy, chemotherapy or radiotherapy can effectively reduce the side effects and discomfort of treatment and may help patient get better efficacy.