Vietnamese Esophageal Cancer Patient: I Have Confidence in Minimally Invasive Treatment*
DAM VAN HOE is from Hanoi, Vietnam. He is 56 years old, an esophageal cancer patient.
In September 2018, DAM VAN HOE began to feel the food stuck in his throat when he was eating. At that time, he did not take it seriously. Until November, when swallowing problems worsened and he could not eat larger solid food, he went to the local hospital for examination. Esophagoscopy showed thickening of the middle wall of the esophagus, and the pathological biopsy result indicates a squamous cell carcinoma. The doctor urged him to be admitted to the hospital as soon as possible for treatment, but DAM VAN HOE hesitated. He saw some cancer patients around him responded not well to courses of radiotherapy and chemotherapy. He wanted to find out if there was a different option.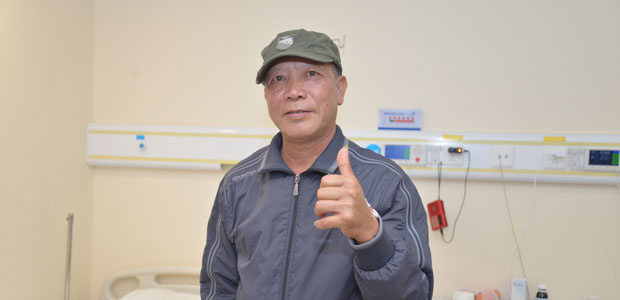 DAM VAN HOE
Later, a friend recommended minimally invasive therapy of St. Stamford Modern Cancer Hospital Guangzhou to him. The biggest difference between minimally invasive therapy and traditional treatment is that it can treat tumor with minimal lesions, and the side effects are minimal, too. His friend is also a cancer patient, and after minimally invasive treatment, his improvement impressed DAM VAN HOE. At the end of November 2018, DAM VAN HOE came to Guangzhou and began to receive minimally invasive treatment.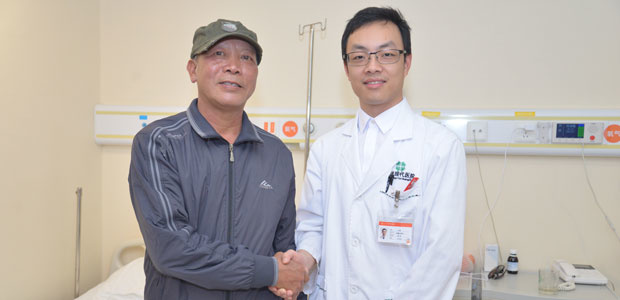 DAM VAN HOE and Dr. Wang Xiang
He had difficulty in drinking water when he was admitted to the hospital. A comprehensive examination showed that his condition was more severe: stage IV squamous cell carcinoma of the middle esophagus with liver, mediastinum, cervical lymph node metastasis. In addition, there were problems such as double renal cysts and hyperplasia of the prostate with calcification.
Based on his physical condition, the Multidisciplinary Team (MDT) developed a treatment plan for him of interventional therapy and photodynamic therapy. The first course of treatment included one session of interventional therapy and photodynamic therapy, lasting for 2 weeks. When DAM VAN HOE was discharged from the hospital, he was recovering and he could eat some porridge. In his second and third admission, he was mainly treated with interventional therapy, and DAM VAN HOE was getting better and better. On January 15, 2019, the CT examination during the third treatment showed that his esophageal focus were 2cm smaller. He can already eat some soft food, and he is fine at swallowing.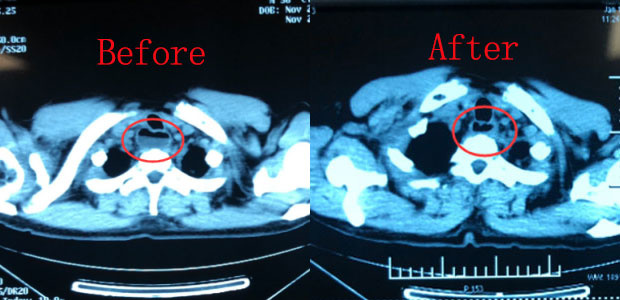 Excessive esophageal dilatation, effusion, and inability to eat before treatment
The esophagus is smooth without fluid accumulation, normal eating after treatment
On February 15, 2019, unlike last time being accompanied by his son, this time, DAM VAN HOE came to Guangzhou on his own by plane. As his condition got better and body stronger, he could already take care of himself, and the hospital's free shuttle service also reassured him and his family. Now he can eat normally. Months of minimally invasive treatment left him with a little hair loss but no other side effects; He is in good mental condition and is confident of following treatment.
According to DAM VAN HOE, when he was diagnosed with esophageal cancer, he was very sad and terrified, which also made his family worried. When he decided to come to St. Stamford Modern Cancer Hospital Guangzhou, he was a little nervous. He didn't know if he could get as good treatment effect as his friend did. After seeing so many cancer patients just like himself in the hospital, he felt like he had a companion. Now the treatment responds so good, he finally let go of his worries, and his family is also very happy. He said that he is very grateful to the medical staffs of St. Stamford Modern Cancer Hospital Guangzhou for their superb medical skills and thoughtful service.
After suffering from cancer, DAM VAN HOE has quit smoking and drinking. He said all he wishes now is getting better, and to conquer cancer. He also encouraged that when facing cancer, other cancer patients must have an optimistic attitude towards treatment and faith in effective control, and life will be definitely better in the future!
*Surgery, in addition to the appropriate chemotherapy and radiotherapy, are effective in treating early cancer, but certain patients in late stage of cancer may not be tolerate surgery well as they can be relatively weak. A combination of carefully planned minimally invasive therapy, chemotherapy or radiotherapy can effectively reduce the side effects and discomfort of treatment and may help patient get better efficacy.