I Felt the Doctors' Benevolence -Commented Nguyen Huu Thang from Hanoi, Vietnam*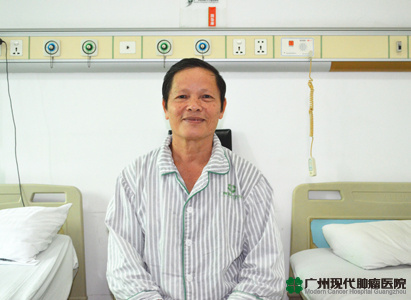 Nguyen Huu Thang
A lump was found in my routine examination in 2009, and since then I had forged an indissoluble bond with Modern Cancer Hospital Guangzhou--referring to my yearly return visit of the hospital. Originally, I got to know the hospital by a friend's introduction. However, due to it being a foreign hospital, distrust and suspicion filled my mind. But in order to get better treatment, I decided to give it a try and thus went to Guangzhou, China for treatment.
During the four-year treatment, Modern Cancer Hospital Guangzhou convinced me by its advanced technology, reliable service and satisfactory environment. I still remembered the doctors and nurses rushing to handle the emergency when I experienced severe pain in the liver and my wife quickly pressed the call light one midnight. This incidence impressed me deeply and brought me mixed feelings.
Modern Cancer Hospital Guangzhou provides not only medical treatment but also thoughtful outdoor activities including singing in Baiyun Mountain, Pearl River night cruise and going sightseeing in Litchi Bay for hospitalized patients. These activities can release patients' negative emotions and inspire them to feel the beauty of life, which are crucial and conducive for cancer patients to combat cancer.
During my hospitalization, all doctors and nurses were conscientious about my treatment and daily nursing. However, here I'd like to make a special mention to my attending doctor-Lin Jing. Dr. Lin is a gentle and kind-hearted woman, and she is also a benevolent and responsible doctor. Every day, she went to my ward to know about the disease progression and treatment effect. Besides, she would always answer my questions timely, explain the treatment process to me with patience and reminded me of daily diet attention. Seeing me tortured by cancer pain, she not only constantly encouraged me to battle liver cancer but also shed tears for me when there was no one around and meanwhile blamed herself for her inability to share my pain.
As a doctor, Mrs. Lin possesses the noble spirit of benevolence. So, I was indebted to both the hospital and her. I am determined to carry on my fight against liver cancer and I hope all cancer patients can join me to face up to the disease with optimism and proactivity.
TIPS:
Harm of Liver Cancer
1.Liver cancer usually brings a relatively big wound, which makes patients feel painful. Development of liver cancer may be not obvious, and liver cancer has a long period of incubation. But its fast development, including malignant tumor, has a high risk of death.
2.Clinical symptoms of liver cancer include loss of appetite, loss of weight, increase in the abdomen girth, fever and so on. There are other symptoms, such as jaundice, nausea and vomiting. If you want to know more, please contact us.
3.Liver cancer, especially the malignant tumor, will cause death without timely treatment.
Diagnosis Methods of Liver Cancer
1. Ultrasound diagnosis: It applies B-type ultrasonography to indicate the sizes, shape of tumor and can discover the lesion whose diameter is about 2cm or even less, and it has became the most common and effective method for diagnosing liver cancer;
2. Radioisotopic hepatic scanning: shows enlargement of liver and liver has lost its normal morph. But such scanning can hardly indicate the tumor with diameter less than 3 cm on the films;
3. CT check: CT features high resolution and can detect early liver cancer with tumor's diameter even being about 1cm;
4. MRI: MRI has high sensitive and can distinguish benign and malignant tumor;
5. Selective celiac or hepatic arteriography: it can indicate out tumor with the diameter even among 0.5-1cm and localize the position of lesion, as well as its sizes, distributions. This is especially valid for small tumor localization of liver cancer.
Experts from Modern Cancer Hospital Guangzhou remind that as for liver cancer's diagnosis, in order to guarantee the effect and safety of exam, it's necessary to go to a regular hospital.
New Breakthrough of Minimally Invasive Treatment for Liver Cancer
Before minimally invasive treatment:
1.Make the detailed general check-up for the patient, accurately determine the location, size and stage of patient's tumor, and then determine whether the tumor has metastasis and other associated diseases.
2.On the basis of test result and patient's condition, MTD group will research and analyze carefully from the multidisciplinary direction, and then make treatment plan seriously. The MTD group utilizes complementary advantages of minimally invasive technologies to get the maximum treatment effect for patient and reduce the side effect to a minimum. Multidisciplinary treatment can avoid the one-sidedness of the single discipline treatment, because relying on the single treatment is difficult to achieve the expected effect.
During minimally invasive treatment:
1.The minimally invasive treatment usually lasts about one hour. Depending on the situation, the patient may be received minimally invasive treatment in the case of semi-anesthesia with clear thinking, so that he/she can talk with the doctor, accompanied by an interpreter.
2.Interventional therapy, particles therapy and cryotherapy are minimally invasive treatments, because the surgical wounds of all of them is just about 2mm. Without large area of surgical wounds and serious bleeding, patient can walk within 48 hours after minimally invasive treatment because of little trauma and fast recovery. Therefore, the pain after minimally invasive treatment is little and the side effects are mild.
After minimally invasive treatment:
1.According to the situation of operation, regularly monitoring temperature, pulse, respiration and blood pressure will be done. Besides, doctors will check whether the patient feel painful and uncomfortable or not; and nurses will give patient attentive care.
2.Monitoring patient's tumor and physical condition, doctors and nurses adjust the care program on the basis of specific situation.
3.Determining the subsequent visit time for discharged patients, doctors will provide the necessary guidance of services, nutrition, rehabilitation and the precautions in living or working.
*Surgery, in addition to the appropriate chemotherapy and radiotherapy, are effective in treating early cancer, but certain patients in late stage of cancer may not be tolerate surgery well as they can be relatively weak. A combination of carefully planned minimally invasive therapy, chemotherapy or radiotherapy can effectively reduce the side effects and discomfort of treatment and may help patient get better efficacy.