ElANG MOCHAMAD: Minimally Invasive Therapies Help Me Fight against Lung Cancer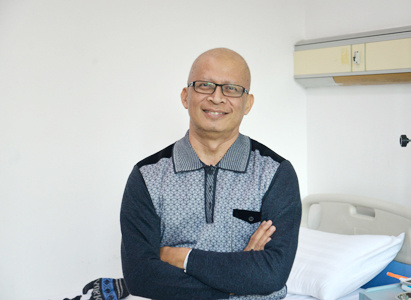 ELANG
ElANG MOCHAMAD, 53 years old, he used to have a happy life with stable job, virtuous wife and filial sons and daughter. However, a sudden bad news broke his happiness. A tumor was detected in his lung during the annual physical checkup. Further examination showed that the tumor is malignant. In other words, ELANG got lung cancer.
ELANG was very depressed and confused when he knew he got cancer. Actually, this bad news scared both ELANG and his colleagues, because ELANG loves exercises, he goes to work by bicycle or foot, and do exercises regularly every weekend. Why ELANG got lung cancer with such a healthy life style? ELANG was confused and did not know how to treat it. Since the tumor is not big, doctors in Indonesia suggested him to take resection operation, but ELANG refused. He convinced that human body is an integrated entity, only with an integrated body, can human be healthy. Once he takes resection operation, his body will no longer be integrated, not to mention keep healthy.
Optimistic as ELANG, he quickly started to look for better lung cancer treatment. Fortunately, ELANG found Modern Cancer Hospital Guangzhou via internet. Although there are numerous cancer hospital on the internet, Modern Cancer Hospital Guangzhou is the one that attracted him most, in that Modern Cancer Hospital is the most reliable one and it has most successful cases. What's more, its minimally invasive therapies which are of small trauma and few side effects, and there is no need to take resection operation. After knowing Modern Cancer Hospital and its minimally invasive therapies in detail, ELANG decided to take cancer treatment in China.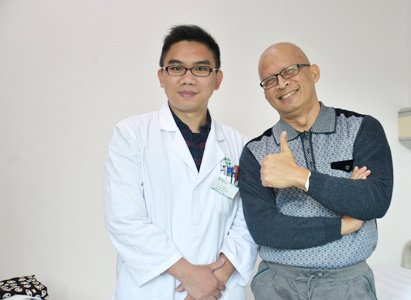 ELANG and his attending doctor
After hospitalization, ELANG took cryotherapy and biopsy, results showed that he got stage Ⅱ lung cancer, with metastasis to the lymph node. Based on his condition, the multidisciplinary team (MDT) of Modern Cancer Hospital Guangzhou specially made him a therapeutic plan. In the first stage, ELANG was given interventional therapy, cryotherapy and natural therapy. To ELANG's surprise, his tumor marker has reduced to 1.8 after taking the first session treatment. After receiving the second session of treatment, his tumor marker reduced to 0.7. What delighted him most is that the cancer cells metalized to his lymph node gone. In order to prevent deterioration and metastasis, ELANG took interventional therapy and cryotherapy again.
When asking his feeling about the first time he took minimally invasive therapies, ELANG told us that he did not scared or nervous at all, because doctor already explained to him the procedure in detail. ELANG was well prepared and he fully trusted Modern Cancer Hospital Guangzhou. He believed that Modern Cancer Hospital Guangzhou would give him the best treatment and he would restore to health.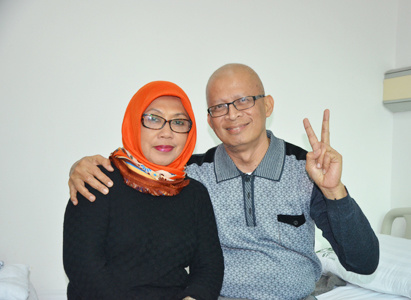 ELANG and his wife
What's more, ELANG mentioned about his first impression of Modern Cancer Hospital Guangzhou. He said that Modern Cancer Hospital is more like a hotel than hospital. Treating lung cancer in Modern Cancer Hospital is relaxing and reliable; patients here are encouraged to go out for fun. Moreover, the hospital organizes various activities for patients, which are beneficial to the attention diversion and the improvement of efficacy .
ELANG used to think that cancer is untreatable, cancer means death. However, Modern Cancer Hospital Guangzhou changes his mind and gives him new hope. "Thanks to God, thank you for leading me to find Modern Cancer Hospital Guangzhou, and thanks Modern Cancer Hospital Guangzhou for giving me new hope." ELANG said. After taking comprehensive treatment in Modern Cancer Hospital Guangzhou, his condition is under well controlled now. His tumor shrank and he lives a normal life.
*Surgery, in addition to the appropriate chemotherapy and radiotherapy, are effective in treating early cancer, but certain patients in late stage of cancer may not be tolerate surgery well as they can be relatively weak. A combination of carefully planned minimally invasive therapy, chemotherapy or radiotherapy can effectively reduce the side effects and discomfort of treatment and may help patient get better efficacy.