Interventional Therapy Helped Me Take a New Lease of Life*
"For Families, for Friends, I Have to Live!"---- LIAU CHUNG YEE
"My wish is to stay with my families much longer. Also I want to gather with my friends and colleagues. Staying with them is a kind of happiness." To LIAU CHUNG YEE, happiness is simple because he just went through a life challenge.
However, the simple happiness was the extravagant hope to him four years ago.
Cancer Suddenly Intruded His Body
On December, 2011, LIAU CHUNG YEE found 4×3cm lymph node in his left side of neck. With the company of families, he took some tests in Malaysian hospital but the result showed that he got nasopharyngeal cancer, which made his whole families panic-stricken. LIAU CHUNG YEE was confused why he got cancer. He had no bad habit and he loved sport and was awarded in taekwondo many times. Though he hesitated to take radiotherapy and chemotherapy, which the Malaysian doctors suggested, he finally accepted their medical suggestion.
Talking with the fear of chemotherapy and radiotherapy, LIAU CHUNG YEE said chemotherapy and radiotherapy brought a lot of side effects. I knew seven or eight patients. Though they took chemotherapy, their condition was not improved but aggravated. Worse, they can not lie down and had difficulties to eat and sleep with the declining weight. The unsatisfied therapeutic effect and the deteriorating condition made him give up taking chemotherapy and radiotherapy. He just took Chinese medicine at home.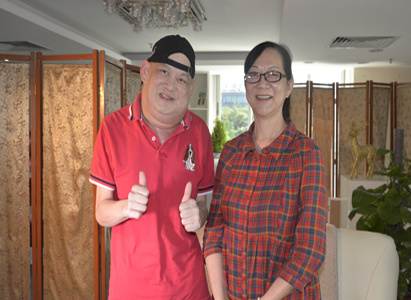 LIAU CHUNG YEE and His Wife
However, the condition was not improved. In March 2015, the cold aggravated LIAU CHUNG YEE's condition with the symptoms of severe edema, difficulty in breathing and swallowing. On June 9th the test result showed that the nasopharyngeal cancer had transferred to many parts of the body. The result made his whole family depressed. LIAU CHUNG YEE thought in his mind that he wanted to be alive. His mother was old and my son was still young. I can not abandon them away. Thus, he went for better cancer treatment.
New Hope for Cancer Treatment
By chance, LIAU CHUNG YEE knew Modern Cancer Hospital Guangzhou on China Press and surprisingly found out that many cancer patients successfully fought against with cancer by minimally invasive therapy. First, he hesitated to take another treatment due to the bad effect in Malaysian hospital, but after further knowing Modern Cancer Hospital Guangzhou, his doubt was removed and decided to take cancer treatment in China. On June 24th, with the company of families, LIAU CHUNG YEE arrived at Modern Cancer Hospital Guangzhou.
Take a New Lease of Life
LIAU CHUNG YEE's mother said, "Modern Cancer Hospital Guangzhou takes care of every detail of arranging visa, airport pickup and taking cancer treatment." This is the true feeling of her. To LIAU CHUNG YEE, the individualized medical treatment of hospital enhances the confidence. "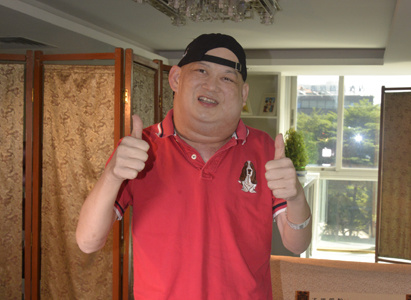 LIAU CHUNG YEE
At present, LIAU CHUNG YEE has already taken three sessions of interventional therapy. At first, he can't lie down, eat or sleep, but now he comes back to the normal status. LIAU CHUNG YEE is grad for making this choice. "Modern Cancer Hospital Guangzhou gives me a different therapeutic method. Compared with radiotherapy and chemotherapy in Malaysia, minimally invasive therapy does not bring any side effect except for feeling a little bit dizzy after taking the first session of interventional therapy. Other treatments do not bring any discomfort to me. I feel much better than before and I am confident that I can fight against with cancer. 
His attending doctor, Dr. Wang, implied that his tumor was shrunk by 90%. When the water in the neck was drawn out, he goes back to normal condition.
LIAU CHUNG YEE's mother told us that LIAU CHUNG YEE loved the food in Guangzhou. When he did not take the treatment, they went for the delicious food in Guangzhou. "Before taking the cancer treatment, I could only eat the fluid food; I can finally choose the food I like now. Thank you Modern Cancer Hospital Guangzhou. I hope other cancer patients do not give up the treatment and cherish the life. Live with hope!" LIAU CHUNG YEE said.
*Surgery, in addition to the appropriate chemotherapy and radiotherapy, are effective in treating early cancer, but certain patients in late stage of cancer may not be tolerate surgery well as they can be relatively weak. A combination of carefully planned minimally invasive therapy, chemotherapy or radiotherapy can effectively reduce the side effects and discomfort of treatment and may help patient get better efficacy.