VOO CHEW WAH: Interventional Therapy helps me overcome Stage IV Nasopharyngeal Cancer*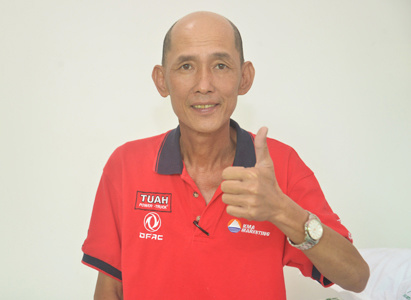 VOO CHEW WAH
"Everything in life is impermanent; we never know tomorrow and accident, which will come first. Although we got cancer, we should never feel desperate in that we still have the chance to take treatment. Now that we got cancer, we should face with it bravely and take treatment timely."---- VOO CHEW WAH
VOO CHEW WAH, 46 years old now, comes from Kuala Lumpur, Malaysia. In September 2015, VOO CHEW WAH found a mass on the right side of his neck, which was about 4cm. Since there was no discomfort, VOO CHEW WAH just took it as inflammation and took some Chinese herbal tea to control it. However, the Chinese herbal tea did not work, so he had to go to hospital for further examination. A lump was found in the right side of his nasopharynx when taking conchoscope. Biopsy result showed that VOO CHEW WAH got stage Ⅲ nasopharyngeal cancer. He has three children and his wife was going to give birth to his fourth child in October, he was really happy at that time. However, this happy life was broke by the bad news.
Although VOO CHEW WAH was sad, he quickly accepted the fact that he got nasopharyngeal cancer. Optimistic as him, he even comforted his wife and families. He told his wife to accept the fact and faced it with courage and easiness. He promised to his wife that he would pull though and see their children grow up. He told himself that children are so young that his wife could not carry such a heavy burden, he must cooperate with treatment and pull though it.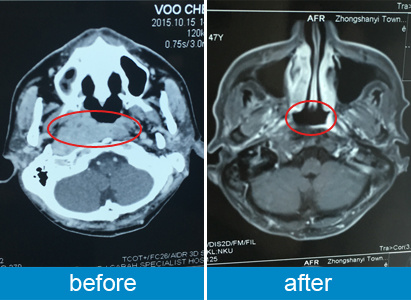 CT scan Comparison
Therefore, VOO CHEW WAH started to look for better cancer treatment. Actually, doctor in local hospital of Malaysia suggested him to take chemotherapy and radiotherapy when he was diagnosed with nasopharyngeal cancer. He refused, because he knew that chemotherapy and radiotherapy could not help him pull though, he had to find some treatments that are better than chemotherapy and radiotherapy. Later, VOO CHEW WAH's friend recommended him Modern Cancer Hospital Guangzhou. He went to the Kuala Lumpur Office of Modern Cancer Hospital Guangzhou for further details about the treatment and hospital. According to his CT scan and other medical reports, Professor Peng Xiaochi explained to him his condition in detail and made him a therapeutic plan. Professor Peng explained that nasopharyngeal cancer is common in China; Modern Cancer Hospital Guangzhou has advanced minimally invasive therapy and rich experiences in treating nasopharyngeal cancer. After consultation, VOO CHEW WAH decided to take cancer treatment in China because he fully trusts Modern Cancer Hospital Guangzhou. His wife and family members also agree to his decision.
VOO CHEW WAH's tumor has developed into the fourth stage when he was hospitalized in Modern Cancer Hospital Guangzhou. According to his condition, the multidisciplinary team (MDT) of Modern Cancer Hospital Guangzhou specially made him a therapeutic plan based on interventional therapy. Interventional therapy is a mini-invasive therapy performed under the guidance of medical imaging equipments. With a 1-2 millimeter incision, paracentesis can be performed with the lead of medical imaging equipment. Then a special tube, catheter or other sophisticated apparatus are introduced to inhibit the growth and spread of cancer cells, so as to cut off the tumor's blood supply and reach the effect of local chemotherapy without any toxic side effects of chemotherapy. Compared with traditional chemotherapy and radiotherapy, interventional therapy has the advantages of small trauma, few side effects and high efficiency, etc.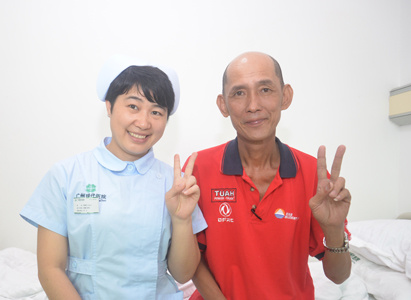 VOO CHEW WAH and the head nurse
VOO CHEW WAH told us that he felt relaxed instead of nervous when he first took interventional therapy, because he really trusts Modern Cancer Hospital Guangzhou. Fact proved that Modern Cancer Hospital Guangzhou did not let him down. His tumor shrank to less than 1cm after taking the first session of interventional therapy. Except for slight poor appetite, VOO CHEW WAH did not suffer from any severe side effects that are usually brought by chemotherapy and radiotherapy, such as vomiting, pain, hair losing, etc. VOO CHEW WAH told us that the whole treatment is much easier than his imagine, he loves interventional therapy because it is of high efficacy and few side effects. Now, VOO CHEW WAH's tumor completely disappeared and his life gradually returns to normal. In order to prevent the recurrence of tumor, VOO CHEW WAH will take biological natural therapy to improve his immunity.
VOO CHEW WAH is satisfied with the services in Modern Cancer Hospital Guangzhou, the transportation service provides great convenience; various kinds of activities held by Modern Cancer Hospital Guangzhou, such as one-day tour around Guangzhou, parties, etc, make him feel free and relaxed. VOO CHEW WAH even witnessed the snow in Guangzhou which happened almost once one hundred years. The whole treatment is quiet smooth, VOO CHEW WAH believes that he is a lucky dog and he shows his sincere gratitude to Modern Cancer Hospital Guangzhou.
Moreover, VOO CHEW WAH shared his anti-cancer experience to other cancer patients: "Everything in life is impermanent; we never know tomorrow and accident, which will come first. Although we got cancer, we should never feel desperate in that we still have the chance to take treatment. The medical technologies now are advanced; we should take cancer treatment timely. Nobody wants cancer, now that we got it unfortunately, we should face with it bravely." VOO CHEW WAH also mentioned his deepest feeling after he got cancer: to cherish the present. VOO CHEW WAH said he will give more love to his families, thank them for their support and care.
*Surgery, in addition to the appropriate chemotherapy and radiotherapy, are effective in treating early cancer, but certain patients in late stage of cancer may not be tolerate surgery well as they can be relatively weak. A combination of carefully planned minimally invasive therapy, chemotherapy or radiotherapy can effectively reduce the side effects and discomfort of treatment and may help patient get better efficacy.