Medical Health Forum on Modern Cancer Minimally Invasive Therapy was held successfully in Manila
  At 6 p.m. of November 15, 2012, the Philippines health journey "Modern Cancer Treatment and Prevention" was held successfully in Manila by Modern Cancer Hospital Guangzhou. This forum was co hosted by Modern Cancer Hospital Guangzhou and Manila Medical Association and was also the 3rd station of the "Philippines 2012 Health Journey", following the Iloilo and Cebu station.
  Professor Peng Xiaochi from Modern Cancer Hospital Guangzhou was invited to be the guest specialist by many local cancer patients and Manila Medical Association, besides, Mr. He Langbing, general manager of Manila office of Modern Cancer Hospital Guangzhou and Dr. Huang Wenchuan as well as representatives of Manila Medical Association, teachers and students of local medical schools and nearly 200 of citizens participated in this forum.
  At the beginning, the representative of Manila Medical Association gave a speech to show warmly welcome Professor Peng and sincere gratitude for this medical health journey, besides, the representative also said Manila Medical Association contributes to secure citizens' health and wellness, seeking to provide the best medical services for the citizens and hoping this forum can popularize tumor knowledge and provide communicating platform for doctors from Manila so as to promote the development of medical technology on tumor.
  Professor Peng firstly introduced the situation of current tumor patients and analyzed the causes of cancers, based on the three most common cancers in Philippines——lung cancer, breast cancer and colon cancer. He also pointed out that cancer is not untreatable any more, now there are many new technology on tumor detection, treatment and prevention being developed to bring new choice and also new hope to patients. As for the treatment technology, the international advanced technology applied by Modern Cancer Hospital Guangzhou such as interventional embolism, iodine particle implantation, ar-he knife cryosurgery, natural therapy, etc have been proved to be safe and effective. Furthermore, Modern Cancer Hospital Guangzhou combines those treatments together to form a treatment system of "Minimally Invasive and Targeted Therapy, Combination of Traditional Chinese and Western Medicine" and numerous of cancer patients from China and South - East Asian countries have profited from this system. He said these patients' treatment experience brings hope and confidence to other cancer patients indeed and he is willing to continue to share their stories to all the people in need and encourage more patients to fight against cancer.
  At the end of this forum, professor Peng illustrated many new methods about tumor prevention to the audience and advised everyone to keep doing regular check-up, as early detection and early treatment can improve the survival rate of cancer greatly. Besides, professor Peng answered many questions raised by the audience.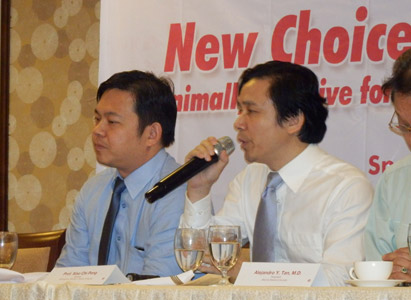 Professor Peng Xiaochi is giving the speech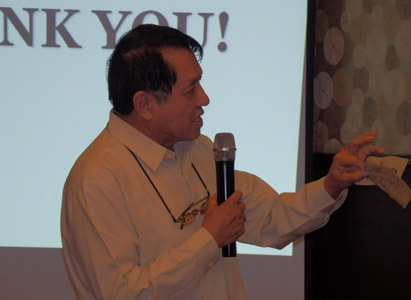 he member of Manila Medical Association is asking questions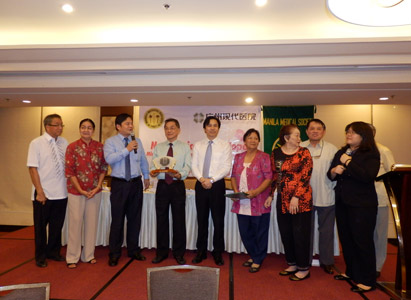 A group photo of Professor Peng, the representative and others
If you have any questions, please contact us via online consultation, email or phone call. If you find our website useful, please follow our FaceBook and YouTube, health information will be updated regularly.
Online Inquiry
CLICK HERE!
Let's Have A Healthy Life!
Video
To show you
what is cancer by
videos
Chatting on Facebook

Become a fan of us!
+Follow
We are waiting for you.