Doctor's Care Is the Best Medicine for Patient*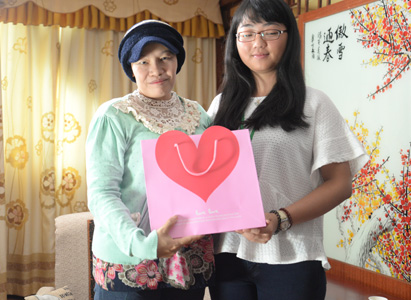 Advanced Cancer Treatment and Attentive Medical Care
Gave Chonlarot Matarak Confidence in Her Recovery
56-year-old Chonlarot Matarak was from Thailand. Before getting sick, she used to live a busy but fulfilling life. She had her own small business in local place. In leisure time, she would like to take an active part in various social activities. However, her quiet and peaceful life was broken unexpectedly by cancer which was diagnosed three years ago.
One day in June 2011, when Chonlarot Matarak was having a shower in home, she found a bean-size lump on her left breast. Later, with the lump got bigger and bigger, she realized that there might be something wrong with her breast. She went to a local hospital, where the result of check up showed that there was actually a mass in her breast. Since it took at least three weeks before the result came out, Chonlarot Matarak had the longest three weeks in her life. When the result of biopsy came out, she was told having breast cancer. The doctor in Thailand suggested her to remove her breast and tumor as soon as possible.
After a whole day's consideration, Chonlarot Matarak decided to take her doctor's advice. "I decide to take surgery, because I want to enjoy a healthy life and experience the best of the world." Chonlarot Matarak's family also supported her decision. The whole family's full support made her feel relieved.
In June 2011, Chonlarot Matarak had her first surgery in a local hospital and then eight cycles of chemotherapy. Later she went to the hospital many times for follow up check up, where all results showed there was neither recurrence nor metastases. As the whole family thought that the cancer has been kept away from her, the check in January 2013, however, showed there was sign of tumor recurrence. Comparing with the first time when she known her cancer, Chonlarot Matarak was quite calm this time. "Since it was tumor recurrence already, let me just accept it as it is." Then she proceeded 16 cycles of chemotherapy. During the chemo, she began to lose her hair. Chemo caused numbness in her hand and feet. She always felt pain in her whole body.
Although the curative effect of chemotherapy was not ideal, Chonlarot Matarak never thought of giving up her treatment, in fact, she always tried to defeat her disease. Unfortunately, in the CT result on July 17, 2014, the statistic showed that tumor, instead of shrink, grew a lot, and was still growing. Besides, there was a possibility of tumor transferring to the lymph nodes in the hilum of left lung.
Once by chance, Chonlarot Matarak found Modern Cancer Hospital Guangzhou on the internet. She was soon attracted by the advanced therapies offered by the hospital, such as minimally interventional therapy, cryotherapy and seed implantation. Because Chonlarot wanted to get more chances, she decided to come to the Guangzhou for treatment.
Chonlarot came to Guangzhou in July 2014. As soon as she admitted, MDT group of Modern Cancer Hospital Guangzhou made a throughout examination of her and after a comprehensive consultation, they decided to use cryotherapy and minimally invasive therapy on nipple to treat her cancer. "After the cryotherapy, I can feel the tumor in my breast dying gradually. It is really fantastic!" said Chonlarot happily "Before I came to this hospital, I was so weak, and I felt pain in my whole body. But after the treatment, I was much better. And I didn't feel pain as much as before."
Chonlarot was very strong in heart. She came to the Guangzhou without any relatives' accompany, but she said that she never felt lonely. "Although I was alone, the doctors, nurses and interpreters in the hospital really took good care of me. They were kind to me and the service here was very considerate. Sometime I would also chat with other patients in the hospital, so I never felt lonely during my treatment." In her opinion, the care from the doctors, nurses and interpreters is so warm to a patient and it cannot be replaced by any medicine.
When talking about the treatment in the hospital, Chonlarot said:" I have nearly 100% of confidence in it."
Chonlarot also hoped that, in the future, she can be chosen as the anticancer ambassador of Modern Cancer Hospital Guangzhou. "Minimally interventional therapy, cryotherapy, and seed implantation should be known by more cancer patients. Those advanced technologies can help them get timely and proper treatment and help them be healthy again." she said.
*Surgery, in addition to the appropriate chemotherapy and radiotherapy, are effective in treating early cancer, but certain patients in late stage of cancer may not be tolerate surgery well as they can be relatively weak. A combination of carefully planned minimally invasive therapy, chemotherapy or radiotherapy can effectively reduce the side effects and discomfort of treatment and may help patient get better efficacy.