As long as You Are Alive, Life Teems with Hope*
On the afternoon of October 21
st,
2014, the media delegation from Malaysia paid a visit to Anggrianii Taniadi in the ward.
Anggrianii Taniadi is a 55-year-old Chinese-indonesian. If she wears her own clothes, you shall not be able to guess she is suffering from many diseases, especially the fourth stage breast cancer, as she is in good spirit.
Anggrianii Taniadi has more than 10 years history of hypertension and diabetes and has been taking medicines. The breast cancer which was diagnosed two years ago has been worsening her condition. Local doctors once advised traditional surgery and post-operative chemotherapy. However, she preferred the traditional Chinese medicine, which came out as a bad choice with extremely poor effect. The left breast lump enlarged and the puncture point ruptured with a little yellow smelly effusion. The deteriorating condition finally awoke her up, but at that time Anggrianii Taniadi had missed the operation opportunity. Did it mean she had no choice but to wait for death? The family was in deep despair day and night.
One day, they accidently met a friend and were told: "there is a well-known hospital called Modern Cancer Hospital Guangzhou in China which has eminent MDT (Multiple-Disciplinary Team). Why not have a try?" Accompanied by her husband and son, Anggrianii Taniadi came to Modern Cancer Hospital Guangzhou where the experts of MDT deliberately worked out a treatment plan for her. Finally, the ulcerated breast has scabbed and fell off after several intervention therapies and cryotherapies. It turns out that the minimally invasive surgeries not only alleviates patients' pain, but also have great beneficial effects.
Considering the good curative effects, Mr. Wang, the journalist of
Public Health
asked about their cost. After careful calculation,he exclaimed: "Wow, it is two thirds lower than that in Malaysia!" Then both Malaysia media delegation and Anggrianii's family speak highly of the advanced medical technologies provided in Modern Cancer Hospital Guangzhou as well as the reasonable costs.
Life always teems with hope and unexpected warmth. Anggrianii Taniadi is to be discharged from the hospital two days later, and we sincerely wish her a speedy convalescence.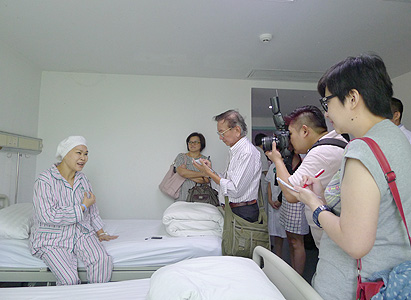 Media delegation from Malaysia visited Anggrianii Taniadi in the ward.
*Surgery, in addition to the appropriate chemotherapy and radiotherapy, are effective in treating early cancer, but certain patients in late stage of cancer may not be tolerate surgery well as they can be relatively weak. A combination of carefully planned minimally invasive therapy, chemotherapy or radiotherapy can effectively reduce the side effects and discomfort of treatment and may help patient get better efficacy.