Minimally Invasive Therapy Shank Breast Tumor from 10cm to Less than 1cm*
LORNA LOGICO, 61 years old, comes from the Philippines. She was diagnosed as breast cancer in 2010 and took two sessions of radical mastectomy, while breast cancer recurred and developed into stage IV. In 2018, she arrived at St. Stamford Modern Cancer Hospital Guangzhou and received minimally invasive therapy, after which, her breast tumor shrank from 10cm to less than 1 cm and she got stable physical condition.
Breast cancer developed into late stage after traditional therapy
In 2010, LORNA found a lump in her right breast. After consulting a surgeon, she was suggested to take biopsy. Unfortunately she was diagnosed with breast cancer.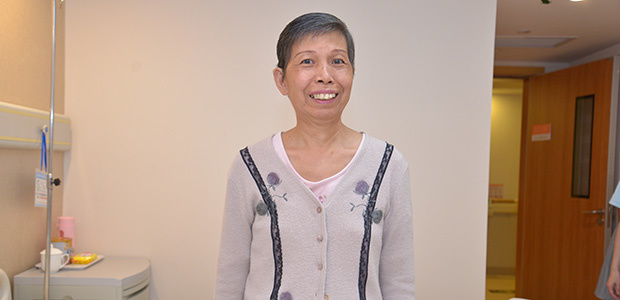 LORNA
Back then, LORNA was considered to be terminally ill. Families and friends showed their concern and searched for treatment for her. To her knowledge, breast cancer patients in the Philippines usually resort to herbal medicine or radical mastectomy. She chose the latter-radical mastectomy, which she thought would help her get rid of cancer once and for all. However, she suffered breast cancer recurrence with a new tumor in 2012. She refused the suggestion of taking chemotherapy and radiotherapy, as she knew well of the toxic side effects and severe damage of systemic chemotherapy to normal tissues. As a result, she received another surgical resection.
In 2013, tumor recurred in LORNA's right breast and she firmly rejected to take surgery again, which turned out to be inefficient for killing cancer cells. She kept looking for alternative treatment here and there in the Philippines. Through a desperate period, she was detected cancer recurrence in right armpit. CT-Scans and chest X-ray indicated a tumor measuring 10cm in her breast and cancer has spread to chest wall. Breast cancer has developed into stage IV.
Minimally invasive therapy effectively treated stage IV breast cancer
LORNA realized her case was rather critical, she resigned and looked for advanced cancer treatment. At the juncture, she learned about St. Stamford Modern Cancer Hospital Guangzhou and minimally invasive therapy, which gave her hope and belief. As she learned that minimally invasive therapy features strong targeting and causes few side effects, she immediately made the decision to take treatment in China.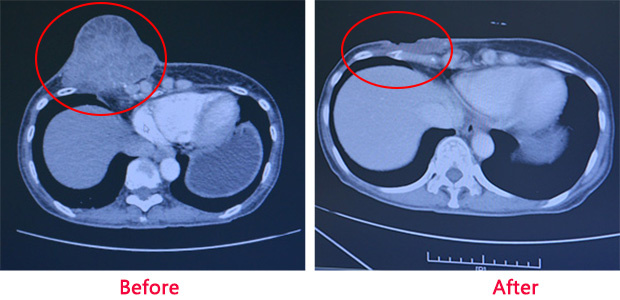 In May 2018, Lorna arrived at MCHG and a treatment plan combining interventional therapy and cryotherapy was measured based on her case. After four sessions of minimally invasive therapy, Lorna yielded good result. She noted, it's my fourth follow-up visit. With four sessions of treatment, the breast tumor measuring 10cm gradually shrank to less than 1cm, which was beyond our expectation. Thank God for guiding me to St. Stamford Modern Cancer Hospital Guangzhou.
LORNA spoke highly of medical staff in MCHG, "On arriving and leaving China, the hospital always arranges shuttle service, which was such a convenience for us traveling in a foreign country. During the hospitalization, we also participated in visiting tour around Guangzhou, taking a sightseeing tour along Pearl River and around the Guangzhou Tower. The nurses and doctors are very friendly, and I am very relieved to be treated in the hospital. "
"Thanks to all the medical staff at St. Stamford Modern Cancer Hospital Guangzhou, who answered my doubts, eliminated my fears, gave me comfort and hope."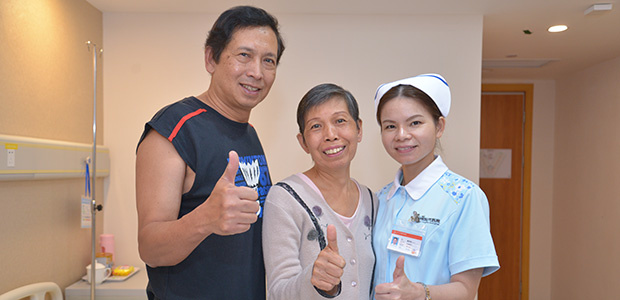 LORNA with her brother and medical staff
Encouragement for cancer patients and best wishes for bright future
"Other patients here are also very friendly and helpful. They often come to our ward to show their concern. Whenever I have doubts about treatment, technology or service, they will patiently explain to me. They give me confidence, hope and strength in treatment. Yesterday there was a Filipino patients who came to my ward and pray for me. To all cancer patients here, I extend best wishes for their recovery and happiness."
After the treatment, with physical condition gradually improving, LORNA feels more comfortable and happy than ever. She is full of expectation for future life. She hopes to live in a farm and grow some plants and vegetables.
*Surgery, in addition to the appropriate chemotherapy and radiotherapy, are effective in treating early cancer, but certain patients in late stage of cancer may not be tolerate surgery well as they can be relatively weak. A combination of carefully planned minimally invasive therapy, chemotherapy or radiotherapy can effectively reduce the side effects and discomfort of treatment and may help patient get better efficacy.